Positive Cash Flow Properties Emailed Daily


Become a member and receive a positive cash flow property listing each and every morning.
A NEW PROPERTY EVERY DAY
We search the Australian property market for positive cash flow properties.
Each day you'll receive a curated property listing delivered directly to your inbox.
These properties have high rental yields and are selected from all over Australia.
You'll see the exact address of the property as well as asking price, estimated rental income and predicted cash flow. Plus a direct link to the online listing so you can take it from there.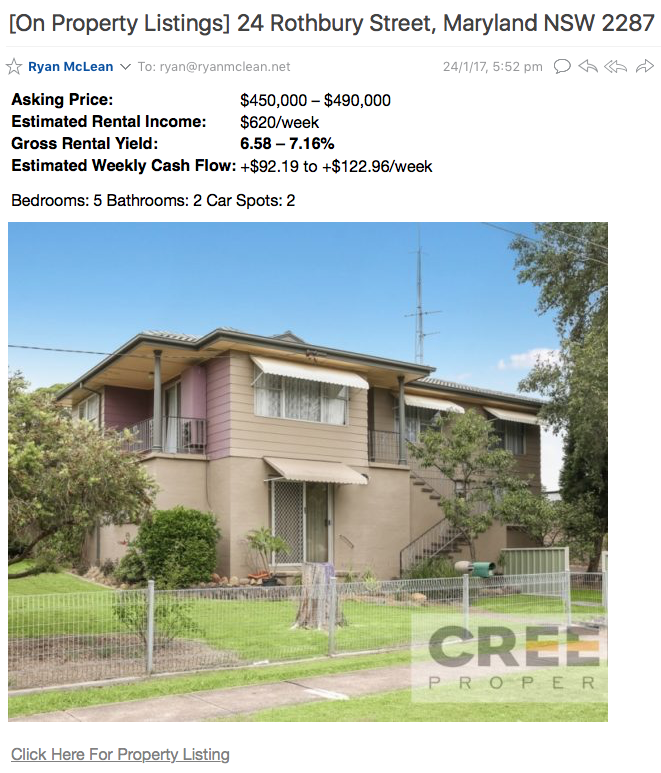 WE SPECIALISE IN POSITIVE CASH FLOW PROPERTIES
We've been finding positive cash flow properties for our members since 2014.
In that time we have shared over 1,000 property listings and helped over 500 members find positive cash flow properties.
We hunt for properties that generate a positive cash flow after all expenses are paid for, providing you with a passive income investment property.
LIMITED MEMBERS, LIMITED COMPETITION
We limit the number of members to ensure you have the best chance of buying the property you want, with little competition from other members.
Our properties and members are so diverse competition between members rarely happens.
Hi Ryan,
Just wanted to say since joining up to your subscription, I have loved looking at so many cash flow positive properties, some of which in the archives have been in areas with potentially strong growth. I can't wait to be able to purchase my third property later this year, I'm sure one of your daily properties will help me when I am able to borrow again! Defiantly making sure my next one has a strong surplus cash flow to boost my portfolio!!
Thanks again mate

Hi Ryan

Happy to let u know that we got our first investment property ! 

Thanks for showing us the way ! 

Regards, 

Everyone keeps saying 'you HAVE to buy positively geared properties' but no one ever actually helps you do it. Well that's where Ryan steps in. This site is full of ideas and properties to help you invest wisely. Take note. You might just make yourself a fortune
SIMPLE, AFFORDABLE, FLEXIBLE
Just $99 upfront and then $49/month this is an affordable way to find positive cash flow properties.
Subscriptions are flexible and you can cancel anytime, no locked in contracts.
JOIN THE OTHER HAPPY MEMBERS
"Everyone keeps saying 'you HAVE to buy positively geared properties' but no one ever actually helps you do it. Well that's where Ryan steps in. This site is full of ideas and properties to help you invest wisely. Take note. You might just make yourself a fortune".
– Simone Kelly, Newcastle NSW