I have compiled a list of some of the best property investing books for Australians looking to become financially free through real estate. Most of these books are slanted towards positive cash flow property as their chosen investment strategy.
I truly believe that there is no better investment that you can make than to invest in your own education. It has been my curiosity and thirst for knowledge that has led me to learn as much as I can about property.
Books are one of the best ways to learn about investing in property is through books. They go into lengthly detail but cost a fraction of the price of a seminar ($30 vs $3,000).
The best thing is that you only need to learn one thing from the book for it to pay for itself 1,000 times over.
Each of these books has a convenient link where you can buy it from Fishpond.com.au. Fishpond is like an Australian version of Amazon. If you want you can go into a book store but you will almost certainly need to get them to order the book for you. I find it more convenient to simply order online and get it shipped to me, it almost always works out cheaper too!
All product links in the post are affiliate links. It doesn't cost you anything extra but a small percentage goes to keeping the free content on Positive Property Australia coming out.
Here is my list of 30 great property investing books. If you are keen to generate passive income through positive gearing then this list is perfect for you.
1. 0-130 Properties in 3.5 Years by Steve McKnight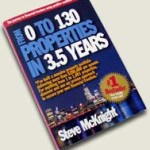 This is the book that first got me hooked on positive cash flow property. I always knew I loved property and wanted to invest in property but as a 16 year old I saw no feasible way that I could ever afford it.
I was in an airport lounge about to go on a holiday and I got my parents to buy me this book and IT CHANGED MY WORLD!
This book details the journey Steve and his business partner's journey from owning 0 properties to (as you guessed it) over 130 properties in such a short time period. The book is also jammed packed with practical tips for regular investors like you and me.
Get the book "0-130 Properties in 3.5 Years" by Steve McKnight
---
2. CashFlow Quadrant by Robert Kiyosaki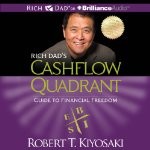 Although technically not a property investment book this is a MUST read for anyone considering investing in positive cash flow property.
I believe the most important thing that people miss when it comes to investing is setting financial goals. Most people don't understand how money works enough to set goals that will improve their life.
CashFlow Quadrant will reach you how money works and the 4 ways people make money – Employment, Self Employment, Businesses and Investments. If you want to be rich you better start making more money in the Businesses and Investments section.
This book will serve you will not just for investing in property but any investments you make.
Get the book "CashFlow Quadrant" by Robert Kiyosaki
---
3. How To Create an Income For Life by Margaret Lomas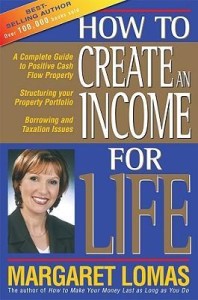 Margaret Lomas is one of the leading teachers and trainers when it comes to positive cash flow property. I doubt there is any investor who has written as many books as Margaret Lomas and she also writes articles for the most popular property magazines in Australia.
This book offers a practical guide to safely investing in positive cash flow property and provides an array of tips and tricks on everything from borrowing to researching your market.
One of her latest books and definitely one of her greatest also.
Get the book "How to Create an Income for Life" by Margaret Lomas
---
4. From 0-Financial Freedom: How to Do It Today by Steve McKnight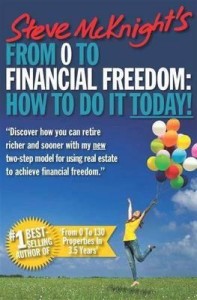 We all know that what worked 10-15 years ago won't necessarily work today. This is true for property as it is for any investments. Just because Microsoft was dominating the computer marketing 15 years ago doesn't mean they continue to dominate as they did today.
So as time changes we need to change our strategies.
The goal stays the same – for most of us that is financial freedom – but the way we achieve that goal sometimes has to be altered.
Steve McKnight understands this and that is why he created this new book. This book details Steve's new 2 step process to retiring sooner and retiring richer.
Get the book "From 0 to Financial Freedom" by Steve McKnight 
---
5. 7 Steps to Accelerated Wealth by John Fitzgerald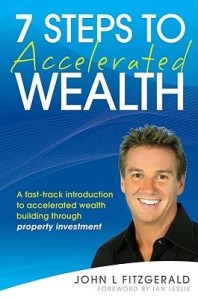 This book was given to me by Rohan Dredge, who was a pastor at the church I was attending and a successful property investor himself.
I asked him to mentor me in this area and the first thing he said was to read this book.
This book details a very effective strategy to generate wealth from investing in property. It is hard for any one book to cover every aspect of investing in property, and I found this book to lack in some of the practical 'how to' I was craving at the time.
But I strongly believe that understanding multiple investment strategies before choosing which one is best for you is an important step for every investor to take.
This book details a neutral gearing and equity strategy that has proven very effective for many. Well worth the read.
Get the book "7 Steps to Accelerated Wealth" by John Fitzgerald
[su_note note_color="#dcf0fc"]
My Ebooks
I also have a collection of ebooks I have written myself. I am constantly writing and adding new ebooks to help you with your property journey.
To purchase a book simply click the "Buy it now" button below and checkout securely using your credit card or PayPal. You will then be able to download your ebook.
[su_table]
[/su_table]
[/su_note]
6. 0-260 Properties in 7 Years by Steve McKnight
Get the book "0-260 Properties in 7 Years" by Steve McKnight
---
7. Protect You Ass-ets by Dymphna Boholt
Get the book "Protect your Ass-ets" by Dymphna Boholt
---
8. What I Didn't Learn From My Real Estate Agent But Wish I Had by Jamie McIntyre
Get the book "What I Didn't Learn From My Real Estate Agent But Wish I Had" by Jamie McIntyre
---
9. How To Buy Property With Your Super Money by Tony Melvin and Ed Chan
Get the book "How To Buy Property With Your Super Money" by Tony Melvin and Ed Chan
---
10. How To Buy a House for $1 by Rick Otton
Get the book "How To Buy a House For $1" by Rick Otton
---
Other Notable Mentions
11. $1,000,000 in Property in One Year by Steve McKnight
12. Rich Dad Poor Dad by Robert Kiyosaki
13. 20 Must Ask Questions for Every Property Investor by Margaret Lomas
14. How To Achieve Property Success by Margaret Lomas
15. Investing in The Right Property Now by Margaret Lomas
16. A Pocket Guide To Investing In Positive Cash Flow Property by Margaret Lomas
17. The Truth About Positive Cash Flow Property by Margaret Lomas
18. How To Make Your Money Last As Long As You Do by Margaret Lomas
19. How To Maximise Your Property Portfolio by Margaret Lomas
20. Confessions of a Real Estate Millionaire by Dymphna Boholt
21. Profit from Property by Philip Thomas
22. How to Start Creating Real Wealth Through Real Estate by Helen Collier-Kogtevs
23. Property and Taxation by Jimmy B. Prince
24. Mastering the Australian Housing Market by John Lindeman
25. Secrets of Property Millionaires Exposed by Dale Beaumont
26. Insider Property Secrets by Rick Otton
27. Retire Young Retire Rich by Robert Kiyosaki
28. Your Property Success With Renovation by Jane Slack-Smith
29. Find The Right Property, But at the Right Price by Melissa Opie
30. The Ultimate Guide To Real Estate by John McGrath