How Much of A House Deposit Do I Need To Save? (Ep9)
ARVE Error: Mode: lazyload not available (ARVE Pro not active?), switching to normal mode

How much of a house deposit do you need to save in order to buy a home or an investment property? Each lender is different so it is important to know how much is required before you can begin investing.
The largest hurdle is generally saving your deposit and in order to save it you first need to know exactly how much you need to save. If you want more information on saving a deposit check out our tips on saving your house deposit fast.
How Much Of A House Deposit Do I Need?
For standard residential property you can begin with as little as a 5% deposit. That is 5% of the purchase price of the property.
If your deposit is under the 20% threshold you will be required to pay Lender's Mortgage Insurance. This is a fee that the banks charge you due to their increased risk in the deal.
For commercial property (including blocks of units – see my free eBook) the minimum required deposit to avoid Lender's Mortgage Insurance is 30% with most lenders.
Proven Savings – It is also important to note that most lenders require a minimum of 5% "proven savings" before they will provide you with a loan. This is 5% that you have proved to have saved yourself, and it cannot be a gift from a parent or relative.
The criteria for proven savings changes from lender to lender and can get quite confusing. Talk to a mortgage broker about this in more detail.
Addition funds – Additional deposit funds can be sourced from places such as
Gifts from family or friends
First home buyer or similar government grants
First home saver account
Usually you will still require the minimum 5% savings unless your entire deposit (including all funds) exceeds 20% of the purchase price.
How Much Do I Need Table
The table below estimates how much you require for a deposit.
In most cases the lender will require you to pay stamp duty yourself – however, most lenders are ok without this being proven savings (it can be a gift from someone else).
Lender's Mortgage Insurance in most cases can be added on to your loan or paid upfront.
[table id=1 /]
Any deposit over 20% for residential property should avoid the lender's mortgage insurance fees.
House Deposits on Construction Loans
If are are purchasing a house and land package, or if you are buying land and getting a house built yourself then lending criteria will be different.
Thus the size of deposit you will need for a construction loan is usually higher than a standard residential loan. The minimum deposit usually starts at 10%
However, it is important to note that many state governments offer grants to people building their first home and in some cases they also offer stamp duty concessions as well.
Getting a Loan Without A Deposit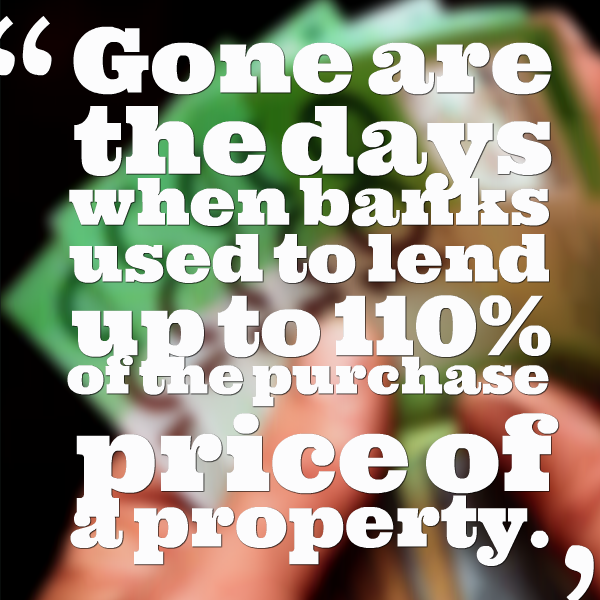 Gone are the days when banks used to lend up to 110% of the purchase price of a property.
Banks will only lend up to 97% of the value of a property (you need a 5% deposit and lender's mortgage insurance is added to your loan) unless of course you have a guarantor.
You can get a parent or relative to go guarantor on your home loan and in many cases lenders will waive their deposit requirement.
If a parent goes guarantor it means they are opting to secure the whole loan, or a portion of the loan on a property they own or through a term deposit.
Other Up Front Costs
It is important to consider the other up front costs you may be required to pay when purchasing a property.
Stamp duty
Mortgage set up fees
Lender's mortgage insurance
Solicitors or conveyancers
Title search and registration fees
Property valuation fees (charged by the bank)
Building and Pest inspections
DISCLAIMER No Legal, Financial & Taxation Advice
The Listener, Reader or Viewer acknowledges and agrees that:
Any information provided by us is provided as general information and for general information purposes only;
We have not taken the Listener, Reader or Viewers personal and financial circumstances into account when providing information;
We must not and have not provided legal, financial or taxation advice to the Listener, Reader or Viewer;
The information provided must be verified by the Listener, Reader or Viewer prior to the Listener, Reader or Viewer acting or relying on the information by an independent professional advisor including a legal, financial, taxation advisor and the Listener, Reader or Viewers accountant;
The information may not be suitable or applicable to the Listener, Reader or Viewer's individual circumstances;
We do not hold an Australian Financial Services Licence as defined by section 9 of the Corporations Act 2001 (Cth) and we are not authorised to provide financial services to the Listener, Reader or Viewer, and we have not provided financial services to the Listener, Reader or Viewer.
"This property investment strategy is so simple it actually works"
Want to achieve baseline financial freedom and security through investing in property? Want a low risk, straightforward way to do it? Join more than 20,000 investors who have transformed the way they invest in property."