Welcome and thank you for visiting On Property (previously Positive CashFlow Australia).
We are dedicated to teaching you how to find and invest in positive cash flow property.
We cover everything from setting financial goals to finding high rental yield properties.
This is the very first post so there isn't much active at the moment, but that will change very shortly.
Our sister blog CashFlow Investor (now migrated over to On Property) has helped over 92,000 visitors since its creation in 2010 and it is my goal for On Property to impact over 1,000,000 visitors in the next 2 years.
UPDATE: On Property started in October 2013. It reached 500,000 visitors in it's first 2 years and is on target to reach 1,000,000 in April 2016.
This will be done through a variety of content delivery systems (a fancy term to make me sound smart).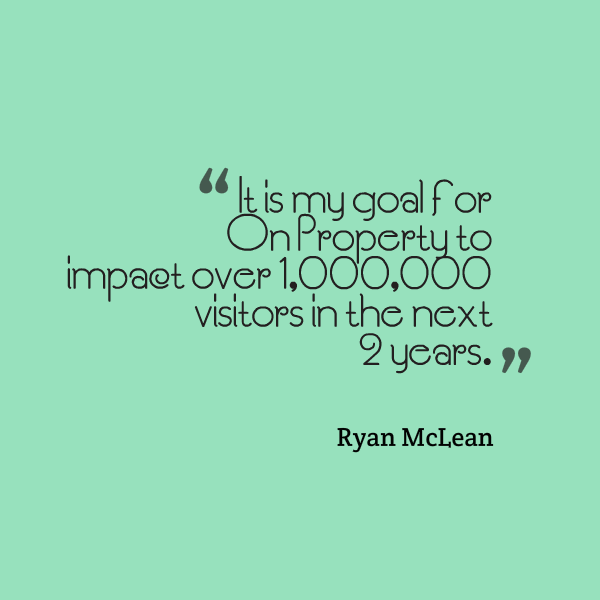 The Blog
The blog will be the foundational platform for all of our teaching. Updated on a regular basis we aim to touch on every single question visitors may have about investing in positive cash flow property.
Blog posts will be fun and informative, trying to give you the best learning experience possible on sometimes what can seem like a difficult topic to understand.
The Podcast
Podcasting is an exploding form of online communication and we want to reach people where they are.
That is why we have the On Property Podcast. A mixture of blog posts in audio format, unique content and expert interviews the podcast is a great way to learn about property on the go or in your spare time.
The Academy
The Positive CashFlow Academy is where we house or premium training content. A mixture of video, audio and text lessons to help you better understand your financial goals and how you can achieve them through property.
More To Come
There is much more planned for On Property but I will not reveal exactly what is going to happen just yet.
But expect more tools to help make investing easier, and more tailored personal assistance to find the property of your dreams.
Contact Us
You can contact us using any of the means below
Get the free property listings