Can You Withdraw An Offer On An Investment Property? (Ep65)
Can you withdraw an offer on an investment property if decide that you no longer want to purchase it? And what happens if you do that?
Let's look at a few different scenarios.
1: Made an offer without signing anything
Number one is when you make an offer but you don't sign a contract and you don't put any money down.
Check with your particular state because every state is different. But in most situations you will be able to remove that offer.
Often you'll make an offer based on a price point but you won't necessarily discuss the terms. This means that there may be some terms within the offer that you're not happy with.
It will usually be okay for you to remove your offer from the table if you decide that the property isn't up to the standard that you thought it would be up to. You can do that by simply letting the real estate agent know.
However you should not get into a habit of doing this. Real estate agents could come to expect it from you and may not take your offers seriously.
Making offers is a serious decision but don't be afraid to pull out if it doesn't end up suiting your needs or being a great decision for you.
2: Signed the contract and entered the "cooling off" period
Number two is when you've paid a small deposit – usually 0.25% of the purchase price – and you've signed the contract and entered into the "cooling off" period.
Check with your solicitor or conveyancer about this because laws do change across different states.
After signing the contract you enter into the cooling off period to decide whether or not you want to purchase the property. This gives you time to do due diligence checks – things like getting a building inspection or pest inspection done.
And you can decide within that time period not to go ahead and purchase that property.
Check with your solicitor or conveyancer about this because laws do change across different states and because your personal contract may specify otherwise.
Also note that you will likely lose the 0.25% deposit if you decide to pull out at this time.
3: Finished the "cooling off" period and paid your deposit
Number three is when you've signed your contract, finished your cooling off period and paid your deposit. Can you still withdraw your offer and not purchase the property?
The answer is yes but there will likely be repercussions.
A lot of this will depend on how you structure your contract. You might lose your deposit or a portion of your deposit or you may be able to get your deposit back.
There is a good chance that you'll be able to get your deposit back if you structure the contract with clauses stating that you can get your deposit back if you decide not to go ahead.
But most standard contracts will cause you to lose the deposit that you have paid on the property if you decide to withdraw your offer after the cooling off period has ended. Usually the deposit is about 5-10% – a significant amount of money.
You should definitely try to remove your offers before the cooling off period ends to avoid a lot of strife.
4: Made an offer at an auction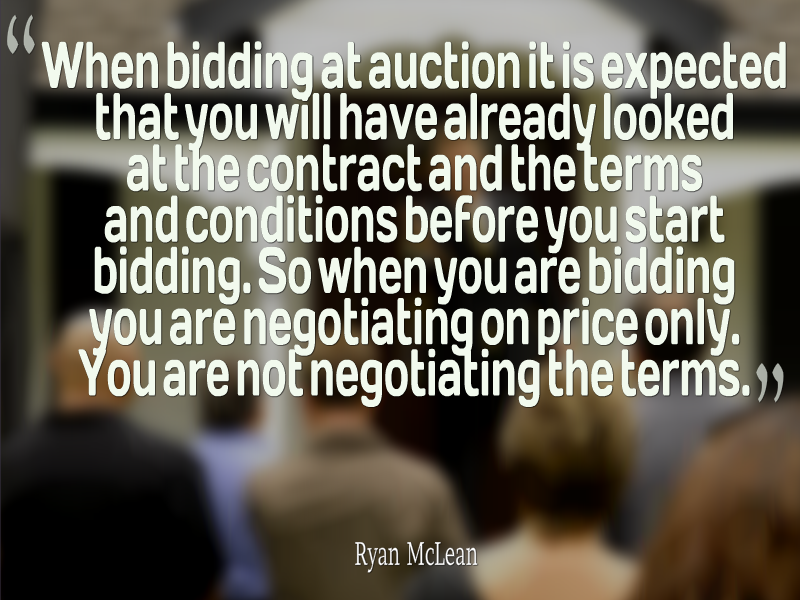 Number four is when you make offers at auctions.
It is expected that you will have already  looked at the contract and the terms and conditions before you start bidding at the auction. This may be in the days leading up to the auction or even the day of the auction.
But when you are bidding you are negotiating on price only. You are not negotiating the terms.
It is expected that you will then complete your offer and pay your deposit straight after the auction finishes if you make an offer at an auction and it is accepted.
Don't make an offer if you don't really want to purchase the property.
You could also look at making an offer before the auction. You may possibly be able to negotiate with the buyer before the auction even happens to get the price and the terms that you want.
So I hope that answers your question as to whether or not you can withdraw an offer that you have placed on a property.
I especially want to thank three people: Jake and Michelle for their encouraging text messages, and Dylan for his email with heaps of great tips on how I can improve the videos and improve the website. Thank you everyone for being involved in Positive Cash Flow Australia and encouraging me to keep it going.
"This property investment strategy is so simple it actually works"
Want to achieve baseline financial freedom and security through investing in property? Want a low risk, straightforward way to do it? Join more than 20,000 investors who have transformed the way they invest in property."