How To Get A Depreciation Schedule Done? (Ep142)
ARVE Error: Mode: lazyload not available (ARVE Pro not active?), switching to normal mode

Getting a depreciation scheduled done is an important step to take as a property investor, in order to maximise your tax deductions and maximise your return on investment. A lot of people ask "Can't I just get my accountant to do my depreciation schedule for me?" The answer is no not really. Today I sit down with Brad from BMT Quantity Surveyors and we talk about how to get your depreciation schedule done and we talk about why our accountant can't do it. This is episode number 3 in a 10 part series I'm doing on depreciation.
How would someone go about getting a depreciation schedule done?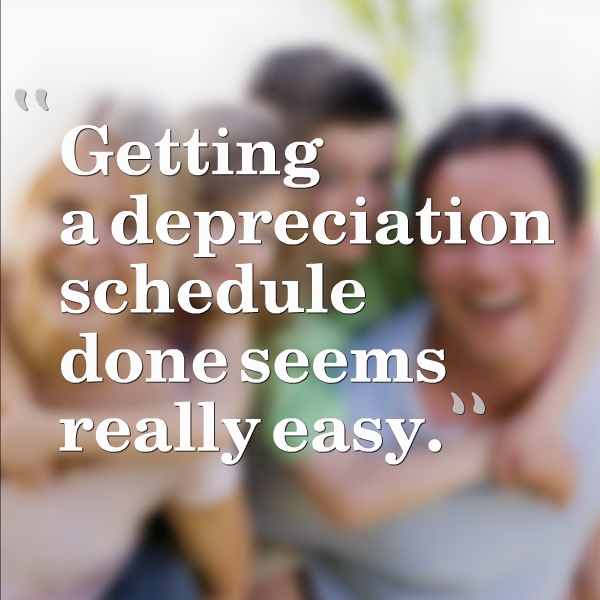 Your quantity surveyor will want a little bit of information about the property, the address and then they will run through a few details on the property. They should then ask questions about your property to make sure you're going to get enough to depreciation before they just go out there and do it. There's a few things that impact on how much you might get so they should ask questions first and then from there they'll decide – "yes we think it's worth it". They will then likely want to inspect of the property because they're going to estimate the cost of those things. Your quantity surveyor will measure up the building – measure up how much tiles, how much concrete, what's the condition of the stove and the hot water service etc and put a value on these things. They will then prepare a report and talk to the council about the age of the building and enquire with other property services to find information about that building and then produce a report for you. You would then take that report to your accountant to lodgement.
Can My Accountant Look After My Depreciation Schedule?
Yes, now every day I have to answer the question "Doesn't my accountant look after that?" A quantity surveyor works alongside the accountant. They are like another expert in just depreciation schedules. So their report tells the accountant how much to claim for depreciation. Quantity Surveyors are your accountant's friend. They produce the report that tells him how much this is and the tax office accept the numbers for construction cost, they normally estimate construction cost and thenwork alongside provide it to the accountant so they can put the numbers in your tax return.
Could An Accountant Do It If They Wanted To?
There's two things to cover on this question. 1. The accountant is not going to visit the property and identify everything. He going to miss stuff and end up with less deductions for you. 2. It's also about compliance. The tax office doesn't accept cost estimates of the building for the purpose of depreciation prepared by the accountant because that's not what their specialty is. Effectively an accountant is not qualified to estimate construction costs. Thus if you get audited they will be required to go to a quantity surveyor anyway to get accurate construction costs and you have to hope you accountant go them right. You can potentially get into a bit of trouble if it isn't done properly. There is no point trying to make money (or save tax) illegally when it is so easy to do it legally. Just get a depreciation schedule done by a licensed quantity surveyor. You invested in property with the purpose of making money so you will want to get the most of it if you can.
How To Get A Depreciation Schedule Done
Getting a depreciation schedule done seems really easy. First step in the process is to simple get on the phone and call a quantity surveyor like BMT. But basically you give them a call and let them know basic details about your property and they can help you over the phone assess whether or not it worth you even going ahead in getting a schedule done. In most cases that answer is going to be yes but in some circumstances with really cheap or really old properties and may not even be worth you doing that so you can save yourself time and money by giving BMT a call first or any quantity surveyor for that matter. The quantity surveyor will then come out and assess your property and will then itemise everything in your property and tell your accountant how much you can depreciate. Companies like BMT will also create a schedule for you for many years to come. So over the years you're assured that you are claiming the maximum amount of depreciation possible. And then basically that report is then given or taken to your tax accountant and they will make the final decisions and help you launch that with the ATO and to claim your depreciations and so forth. While final figures should always be done by an accountant it can often be helpful to estimate the benefits of depreciation before even buying a property. Get the free eBook has depreciation built in, so you can see potential cash flow before tax and after tax to see if a property is worth investing in. Get the free eBook (inside On Property Plus)
DISCLAIMER No Legal, Financial & Taxation Advice
The Listener, Reader or Viewer acknowledges and agrees that:
Any information provided by us is provided as general information and for general information purposes only;
We have not taken the Listener, Reader or Viewers personal and financial circumstances into account when providing information;
We must not and have not provided legal, financial or taxation advice to the Listener, Reader or Viewer;
The information provided must be verified by the Listener, Reader or Viewer prior to the Listener, Reader or Viewer acting or relying on the information by an independent professional advisor including a legal, financial, taxation advisor and the Listener, Reader or Viewers accountant;
The information may not be suitable or applicable to the Listener, Reader or Viewer's individual circumstances;
We do not hold an Australian Financial Services Licence as defined by section 9 of the Corporations Act 2001 (Cth) and we are not authorised to provide financial services to the Listener, Reader or Viewer, and we have not provided financial services to the Listener, Reader or Viewer.
"This property investment strategy is so simple it actually works"
Want to achieve baseline financial freedom and security through investing in property? Want a low risk, straightforward way to do it? Join more than 20,000 investors who have transformed the way they invest in property."