7 Types of Outdoor Shade Structures
Outdoor shade structures for dining, playgrounds, sports fields and building entrances can not only enhance the look of the location but also give people all weather access to the facilities and increase comfort by blocking heat, harmful UV rays and rain.
There are a variety of different outdoor shade structures available and many companies are able to customize the structure to fit your needs.
If you're looking for a shade structure for your outdoor area it's helpful to first get an understanding of the different types of shade structures so you can begin to narrow down your options and choose the one that best suits you.
Shade Sails
Shade sails are a very popular options for outdoor spaces.
They use stretched canvas or mesh between multiple attachments to create shade. They are commonly used in areas like kids playgrounds, pools and car parks where full waterproofing isn't the top priority.
Umbrella or Star Structures
These shade structures have a single centre or corner post with shade sails that move out from the post much like an umbrella. These are great for smaller outdoor spaces such as seating areas at a cafe or around a pool.
Cantilever Shade Structures
These shade structures use side posts and strong steel structures that support the fabric cover that creates the shade.
The benefits of cantilever structures is that you don't have as many poles and so it can allow for more usable space under the shade cloth.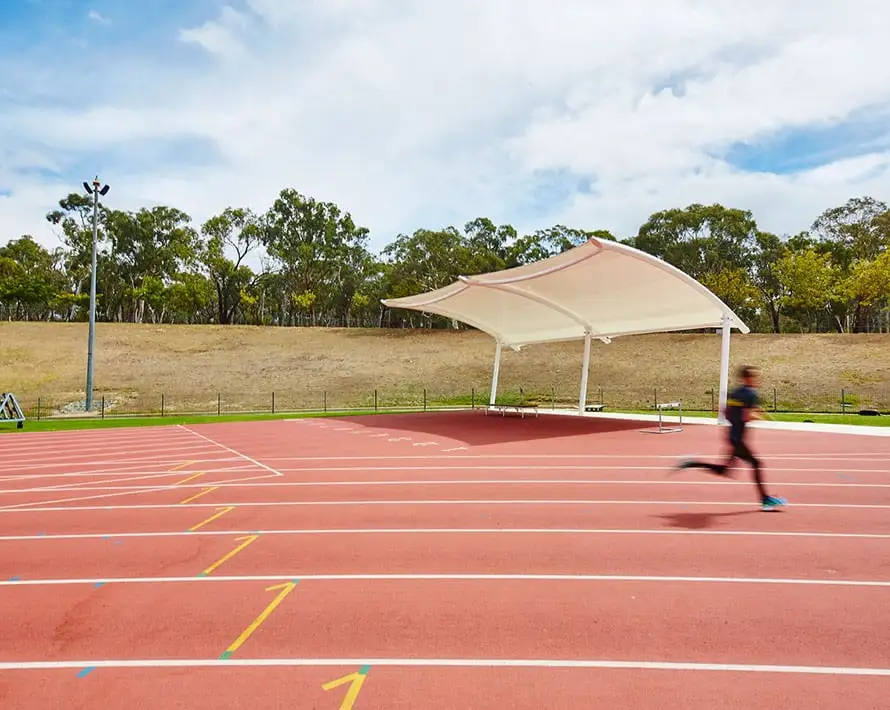 You see them regularly over seating areas next to sports fields and they are also used over pools and driveways to provide sun and rain protection. A sports court shade structure from Greenline (shown above) provides shade and wet weather protection for spectators without structural poles getting in the way of the view.
Pergolas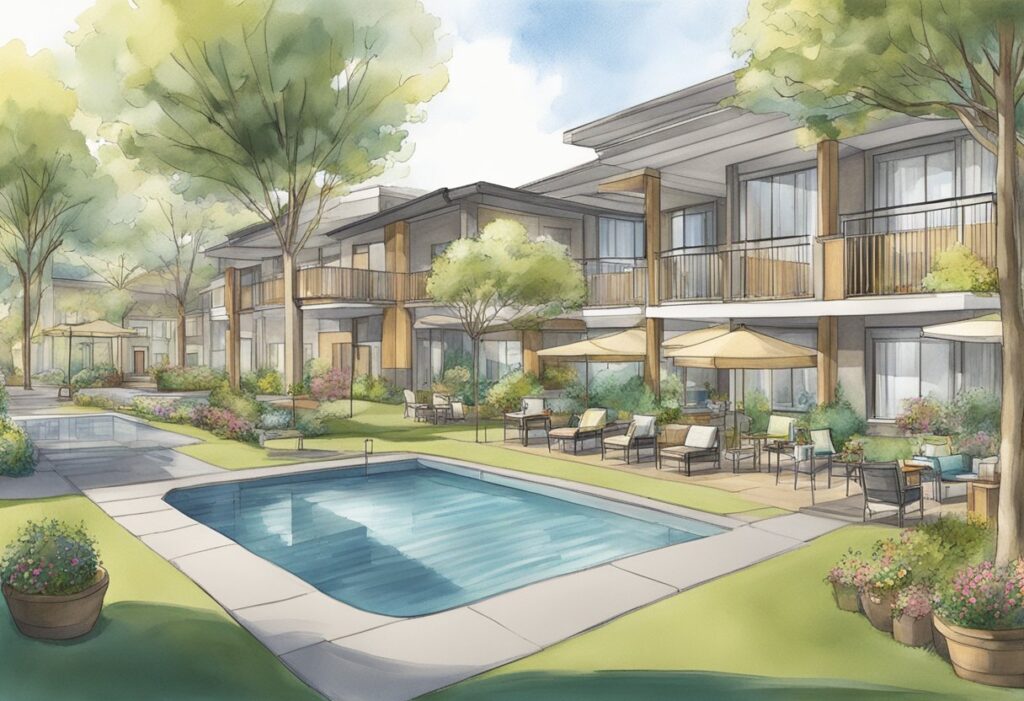 A pergola is an outdoor structure that has posts that support a roofing grid of beams and rafters.
While originally pergolas were left open and allowed vines to grow on them they are now commonly enclosed with either plastic or metal roofing to provide rain and sun protection
Barrel Vault
The barrel vault structure is able to have large spans to provide shade and protection to larger areas such as sports fields with minimal support steelwork.
They range in design and use a tensile membrane to provide shade and rain protection and are commonly used over sports courts, outdoor pools, bowling greens and school quadrangles.
Steel COLAs
COLA or Covered Outdoor Learning Area structures typically range from 10-50m in span size and use a gable, curved or skillion style roof.
The roof is usually constructed of colorbond steel and may feature skylights or infills to provide light to the area underneath while still maintaining shade.
Conic Shade Structures
Featuring an inverted cone shape (much like a circus tent) these structures are great for eating and seating areas – providing full shade and rain protection.
They have a distinctive look and can have a large span but often need supporting centre posts and use larger amounts of fabric compared to other structures which can add to their cost.
DISCLAIMER No Legal, Financial & Taxation Advice
The Listener, Reader or Viewer acknowledges and agrees that:
Any information provided by us is provided as general information and for general information purposes only;
We have not taken the Listener, Reader or Viewers personal and financial circumstances into account when providing information;
We must not and have not provided legal, financial or taxation advice to the Listener, Reader or Viewer;
The information provided must be verified by the Listener, Reader or Viewer prior to the Listener, Reader or Viewer acting or relying on the information by an independent professional advisor including a legal, financial, taxation advisor and the Listener, Reader or Viewers accountant;
The information may not be suitable or applicable to the Listener, Reader or Viewer's individual circumstances;
We do not hold an Australian Financial Services Licence as defined by section 9 of the Corporations Act 2001 (Cth) and we are not authorised to provide financial services to the Listener, Reader or Viewer, and we have not provided financial services to the Listener, Reader or Viewer.
"This property investment strategy is so simple it actually works"
Want to achieve baseline financial freedom and security through investing in property? Want a low risk, straightforward way to do it? Join more than 20,000 investors who have transformed the way they invest in property."